33RD WWII SUBMARINE VETS ANNUAL MEMORIAL
On 31 October 2021, the museum hosted its 33rd Annual WWII Submarine Veterans of WWII Memorial. Instead of a week long event as they have been in the past, the museum held a one day event with 100 invited guests. Tony Faella and his wife Betty, and several WWII Veteran widows enjoyed a great day at the museum and a moving ceremony at the Base Chapel. It was held there due to bad weather. Below are three photos sent sent by Keith Post. Photos (left to right): Tony Faella and Young Unknown Petty Officer, Blanche Casavant and Captain Bohner, USN, and Keith Post. Tony served as an Electrician's Mate First Class on the USS Spearfish (SS 190) during WW II and made 5 combat war patrols. Mrs. Casavant's husband, Paul Leo, served as an Electrician's Mate on an extensive list of submarines and naval surface craft during WW II as well as some boats during the Cold War. Paul departed on Eternal Patrol on 31 August 2018.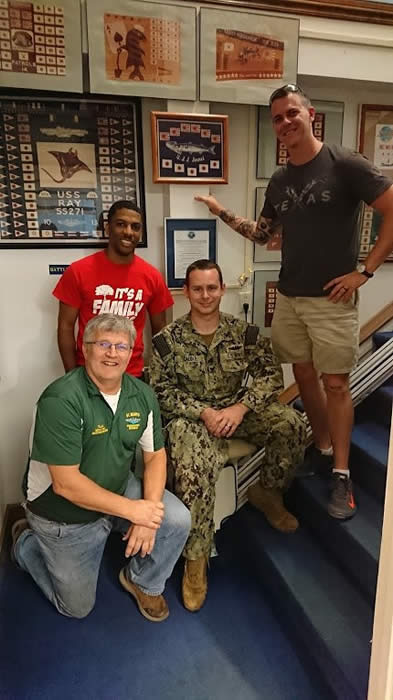 CHAIR LIFT IS BACK IN SERVICE !!!
We are very grateful today for the outstanding service provided by our good friends at TRIDENT TRAINING FACILITY (TTF) KINGS BAY in repairing our Chair lift that takes our handicapped veterans and other guests that need a ride up to our second floor.

This morning, (l to r) EMN2(SS) Diandre' Nelson,
EMN1(SS) Robert Caudle, and EMN1(SS)Phil McNulty
from TTF took apart and repaired our Chair Lift at the Museum. Executive Director Keith Post presented each with a Museum Challenge Coin and took them to lunch!

BRAVO ZULU guys and thank you so much for your great effort at restoring this vital piece of our equipment to full operational capability!

Our thanks also to TTF CMC Ed Rathgeber for providing these outstanding sailors to assist us ! THANK YOU! (Originally posted on FaceBook 30 Apr 2019)