Updated: 06-May-2019
Gianna Williamson Goldy
Museum Gift Shop Manager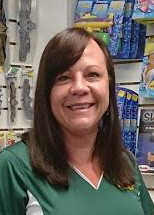 Gianna is the St Marys Submarine Museum's Gift Shop Manager.  Her job is to make sure the museum's gift shop is full of literature, decals, stationary, etc., that visitors can purchase as a memento of their visit.  Gianna meets and greets the museum's guests with great enthusiasm and loves talking about the museum's history and the many artifacts that are on display.   She says, "I am passionate about my job!  I love meeting our visitors and talking with them."  They share their stories about someone they know who served or are serving on submarines.  Above all, Gianna says she especially enjoys meeting and listening to the WWII submarine heroes who visit the museum.  "They have terrific war stories," Gianna added.  "Their stories are of true heroism and bravery and are from the men who lived it."  Gianna can talk-the-talk too.  You see, her family lineage includes a long line of Navy veterans to include her grandfather, father, husband, and a son.  Three of them were or are submariners.  She refers to herself as a "well-seasoned Navy Brat and is the proud mother of 3 more well-seasoned Navy Brats". 
She was very close to her grandfather, Phillip Longhurst Williamson, who shared with her many a story about the time he served in submarines during WW II from 1940 through 1945.  He made 11 of 13 combat war patrols, which the submarine USS Drum (SS 228) conducted during WWII.  Torpedoman First Class Williamson departed on Eternal Patrol on 5 July 2017 while living in Paulsboro, New Jersey.  He was 93. Gianna reflects on the stories her grandfather shared with her from time to time saying that he started a family legacy when he joined the Navy in August 1940.  She reflected that she is now the keeper not only of his stories found in the Drum's folder held at the museum, but Gianna is proud and honored to be the keeper of "every single U.S. Navy Submariner's stories" found in the museum's archives.
Gianna was born and raised in Paulsboro, New Jersey in 1965 to Robert David and Cassie Williamson.   While their dad was serving in the Navy working in the Hull Maintenance Technician (HT) rating on surface ships, Gianna and her two siblings remained in south New Jersey area to be raised by their mother. In 2012, retired chief Robert Williamson passed away while living in Pembroke, North Carolina.
While living and growing up in South New Jersey, Gianna attended Paulsboro high school. She met the love of her life at 15 years old, Jeffrey Wayne Goldy who attended Deptford high school.  Jeffrey graduated in 1981 and joined the Navy. Gianna graduated in 1983 and two days later married Jeffrey on June 18, 1983.  His first six years in the Navy were served working as an Engineman on the guided missile frigate USS McInerney (FFG-8).  His first shore assignment was at Submarine Base Groton, Connecticut.  That was where he decided to change his rating from Engineman to Quartermaster and became a submariner.  From 1989 – 1995 he served on the nuclear-powered fleet ballistic missile submarine USS Stonewall Jackson (SSBN 634).  He also served on the USS West Virginia (SSBN 736) from 1998 – 2001.  In 2001, Jeff retired from the Navy as a First Class Quartermaster.  During the 20 years of service, Gianna said she found moving from place to place was exciting and enjoyed exploring new surroundings.  The couple's son, Jeffrey Jr. who had plans to become a Gifted Math Teacher and to coach high school wrestling decided that he too wanted to follow the family's legacy and he joined the Navy.  Jeff who has already served 16 years, is married to his high school sweet heart Kelly, is a Chief Electronics Technician as a submariner currently serving aboard the USS Chicago (SSN 721) at Naval Station Pearl Harbor, Hawaii.
Enjoy your visit to the Museum and with Gianna.